Salaš 011 dostava hrane Belgrade
Grill, National food, Cooked meals, Pasta, Breakfast, Chicken, Sandwiches

Palmira Toljatija 2a, Belgrade
Dostava 08:00 do 17:00
PRIKAžI MAPU
| | | |
| --- | --- | --- |
| Radno vreme | Dostava | Za poneti |
| Ponedeljak | 08:00 do 17:00 | 08:00 do 17:30 |
| Utorak | 08:00 do 17:00 | 08:00 do 17:30 |
| Sreda | 08:00 do 17:00 | 08:00 do 17:30 |
| četvrtak | 08:00 do 17:00 | 08:00 do 17:30 |
| Petak | 08:00 do 17:00 | 08:00 do 17:30 |
| Subota | - | - |
| Nedelja | - | - |
Breakfast with eggs
Sosin omelet
Omelet with three eggs with ham, carrot, zuchinni, mushrooms, paprika, cheese. Tomato, cucumber and young cheese as side dishes. Served with two buns. ↗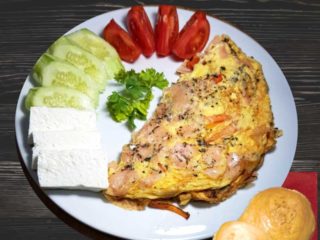 Granny's breakfast
French toast, cream cheese spread, tomato, cucumber,cheese and two kaiser. ↗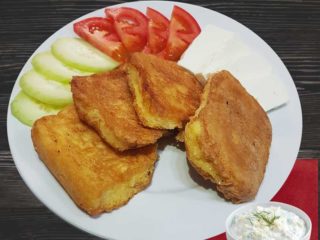 Breakfast ''Salas 011''
Three fried eggs and bacon, tomato, cucumber, cheese and two kaiser. ↗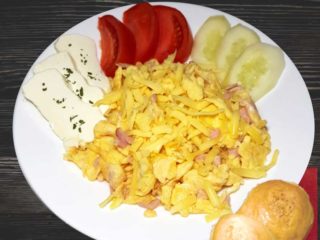 Breakfast ''Serbian peasant''
Omelet of three eggs and three slices of smoking sausages with mustard, tomato, cucumber, cheese and two kaiser. ↗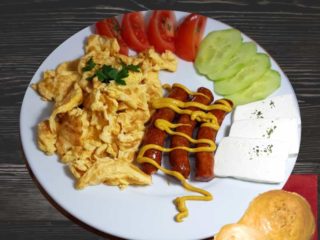 High protein breakfast
Four egg whites omelet with broccoli, mushrooms and chicken white meat and two fresh kaiser. ↗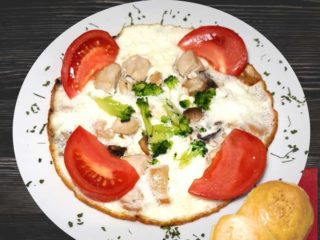 Tortillas and sandwiches
Broth and and cooked meals
Main meals
Risotto and pasta
Offer per kilo
Grilled smoked sausages kg
Roled chicken white in bacon kg
Spanish fingers with french fries kg
Breaded chicken white meat with sesame seed, pan fried.
Fritters from Leskovac with french fries kg
Kabobs, cheese, ham, garlic and spices.
Cabbage salad kg
Cabbage, vinegar, olive oil, salt.
Vitamin salad kg
Lettuce, cabagge, tomato, cucumber, olive oil, salt.
Grilled mixed meat kg
Kabobs, smoked sausages, rolled chicken in bacon, chicken white, grilled Leskovac fritters. ↗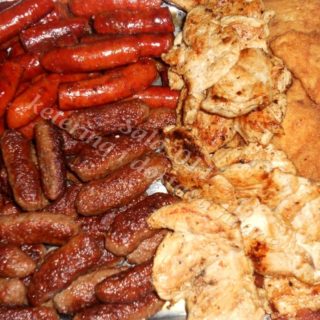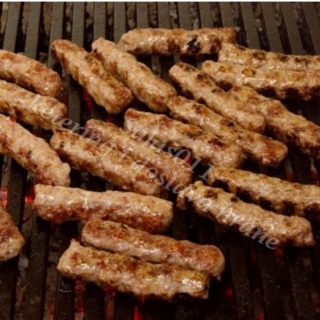 Additions
Grilled vegetables
200g Zucchini, carrots, pepper, mushrooms, basel, sesame seeds, spices. ↗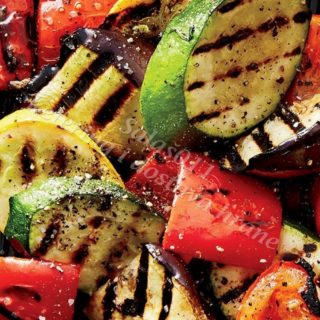 Meal salads
Sport meal salad
Grilled chicken with mushrooms in soy sauce, lettuce mix, cheese, tomato, croutons, broccoli, carrot, celery, spices. ↗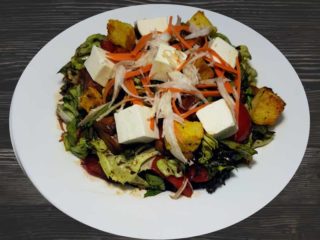 Salads
Dessert
Homemade pie – nutela and forrest fruits
Homemade pie – nutela and plazma
Homemade pie – vanilla and cherry
Drinks
Forget complicated ordering via phone, Alideda is here. Home delivery just became easier.
×
Ukoliko Vaša lokacija nije izlistana, izaberite drugi restoran.

din.
×
Salaš 011


Restoran trenutno ne prima narudžbine preko Alidede.
Izaberite adresu za dostavu
Upišite adresu dostave
Ukoliko Vaša adresa nije ponuđena, kliknite ovde