Thai Zone dostava hrane Belgrade
Healthy food, Chicken, Restaurants, Desserts, Internacional cuisine, Asian food, Vegetarian food

Jurija Gagarina 14d, Belgrade
Dostava 10:00 do 21:30
PRIKAžI MAPU
| | | |
| --- | --- | --- |
| Radno vreme | Dostava | Za poneti |
| Ponedeljak | 10:00 do 21:30 | 10:00 do 21:30 |
| Utorak | 10:00 do 21:30 | 10:00 do 21:30 |
| Sreda | 10:00 do 21:30 | 10:00 do 21:30 |
| četvrtak | 10:00 do 21:30 | 10:00 do 21:30 |
| Petak | 10:00 do 21:30 | 10:00 do 21:30 |
| Subota | 12:00 do 20:30 | 12:00 do 20:30 |
| Nedelja | 12:00 do 20:30 | 12:00 do 20:30 |
Starters
Starter pack 1 - Spring rolls veggie 3pcs + 3 sauce

Crispy spring rolls, with vegetables, homemade sweet and sour sauce, sweet-chilli sauce and soya sauce. ↗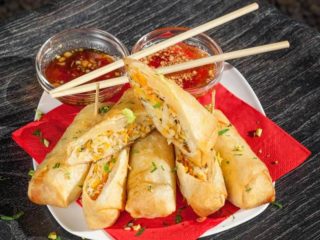 Starter pack 4 - Shrimp chips + 3 sosa

Crispy shrimp chips, served with homemade sweet-chilli, homemade sweet-sour and soya sauce. ↗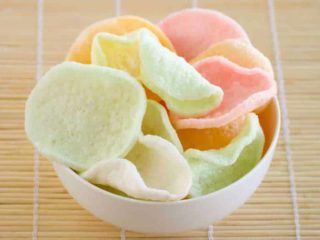 Starter pack 2 - Spicy corn 3pcs + 3 sauce

Hot. Juicy and spicy, puffy curry meatballs, with homemade sweet and sour sauce, sweet-chilli sauce and soya sauce.
Starter pack 3 - Satai chicken with peanut sauce 3 skewers

Slightly spicy, slow-marinated, satay chicken, served with homemade peanut sauce.
Soups
0.5L The soups can also be meat free with your note or the meat can be replaced with tofu.
Healthy soup
Veggie soup with tofu, ginger, asian cabbage, celery, carrot, mushrooms, nori algae, fresh seed. ↗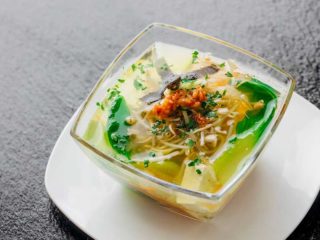 Salads
Crunchy salad
Crispy and colorful veggies, thai edamame, crushed peanuts and flavourful lime and garlic dressing.
Som Tam salad

Sweet and sour saladwith homemade chilli sauce,plenty of lemon juice and peanuts. ↗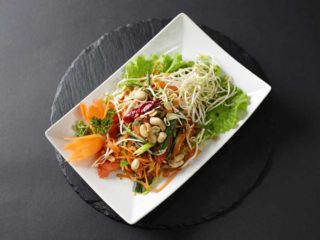 Mango salad with chicken
Salad with chicken, cashew nuts and fresh mango in honey and lime dressing. ↗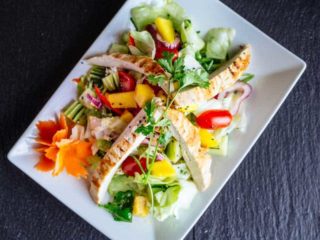 Yam Wun Sen salad with shrimps
Spicy glass noodles with shrimps in lemon juice.
Som Tam salad with shrimps

Thai spicy salad with shrimps, homemade chilli sauce, lime juice and peanuts.
Chicken
450-500g.
Grill Thai chicken
Marinaded and grilled chicken served with mango salsa, vitamine salad and jasmin rice. ↗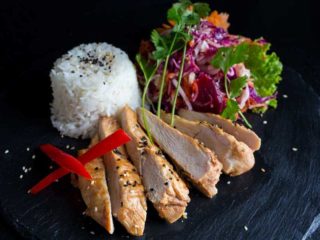 Cashew chicken + rice
Chicken fillet with marinated with spices, dressed with homemade mango salsa sauce. Served with rice and thai salad. ↗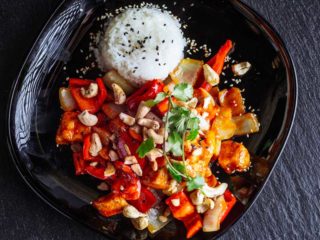 Fried rice with chicken, vegetables and eggs
Pork
Pork with Basil / Pad Kra Pow
Piquante, finely chopped pork fillet with basil and herbs, served with jasmine rice and fried egg. ↗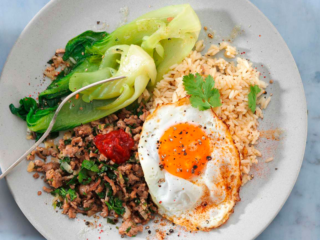 Beef
King beef with peanuts
Royal beef flavor with ginger, peanut and careful vegetable select_ion. Served with a serving of jasmine rice
Dragon beef
Juicy beef with brocolli, bamboo and paprika. Served with jasmin rice.
Fish
Grilled salmon with vegies
Grilled salmon with broccoli, cauliflower, lemon and thai herbs. ↗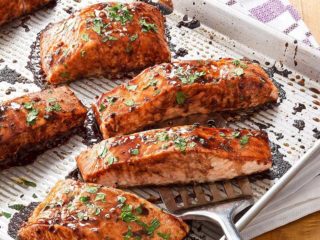 Spicy salmon in red curry + rice
Salmon in delicious coconut sauce with thai herbs, served with jasmin rice. ↗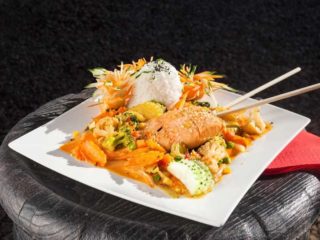 Pad Thai
350g.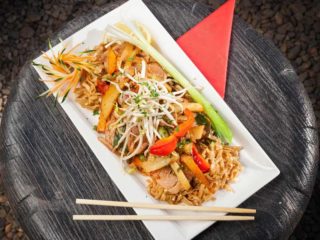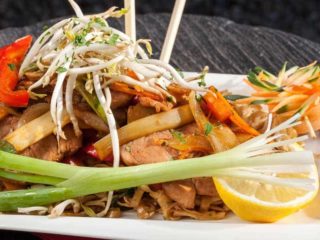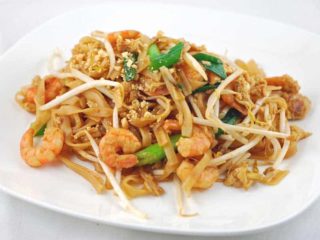 Khao Pad
350g.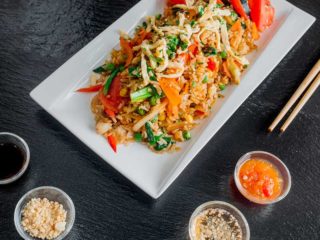 Noodles
Curry
Hot.
Jungle curry
Spicy bamboo pork meat with vegetables in curry sauce, served with jasmine rice. ↗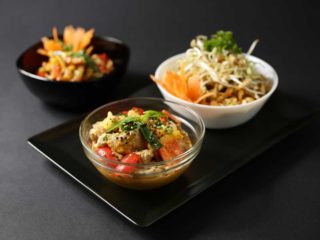 Red curry
Coconut milk, veggies, chicken and basil in red curry with rice.
Green curry
Coconut milk, veggies and chicken in green curry with rice.
Pineapple curry
Chicken with tropical flavours served with rice.
Veggies
Jungle veggies
Vegetables in piquant curry sauce. Pumpkin, onion, carrot, zucchini, kafir, coconut milk, rice.
Coconut veggies with rice
Coconut milk with fresh veggies, basil, baby corn. Rice.
Cashew noodles with broccoli
Thai rice noodles with special dressing, broccoli, cashew nuts and baby corn.
Rice
Dessert
Mango and black rice
Black rice, fresh mango and coconut milk.
×
Ukoliko Vaša lokacija nije izlistana, izaberite drugi restoran.

din.
×
Thai Zone

Izaberite adresu za dostavu
Upišite adresu dostave
Ukoliko Vaša adresa nije ponuđena, kliknite ovde